This outfit is a quasi-repeat, as seen
here
. But this time, I've added a new accessory that I'm dying to share with you—this beautiful necklace. Here's how I became the owner:
In July, I went to New York for a work trip. Before heading into the city, I spent a couple of nights out in Hoboken, New Jersey with my first friend, Rachel. Like, really, my first friend who wasn't family. We've been friends since we were 5, and we are still friends. Pretty special, right?
Anyway, she has this
favorite little shop
she frequents just a couple doors down from her house. And we stopped in to visit with Deb and shop around. In fact, it is where I bought
this gorgeous bracelet
. So while we were there I spotted this necklace, and fell in love, but ultimately decided not to purchase it so that I could get the bracelet, earrings, and necklace set. Rachel has a similar necklace and later that night, she was nice enough to let me wear it out to dinner. I was still in love, but I knew I shouldn't buy any more jewelry right then.
Well a few nights ago I saw the soon-to-be-Mrs. (Rachel gets married in just a few days!) to go over some last-minute wedding details, and as a pre-wedding thank-you for my help with a couple of things, she gave me a gift—this necklace! I couldn't help but to immediately plan how I would wear it to her wedding (that post coming shortly after the wedding!) and how I would wear it to work. It is definitely a new favorite, and if you are ever in Hoboken, I highly recommend you check out Maxwell's!
Chambray: UO, Skirt: Nordstrom (similar), Shoes: Hand-me-down from Mom
What else should I try the necklace with? I'm thinking of it with jeans and a basic tee to dress up a casual look. Thoughts?
And because it is Wednesday, I'm linking up with some friends: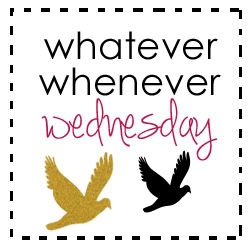 Also, check out some great statement necklaces over at Marionberry Style's Trend of the Month Challenge!