I've mentioned this before, but shopping for lots of maternity clothes just seems silly to me. You're only pregnant for a short amount of time, and even if you plan on having multiple kids, you don't know that you'll necessarily be pregnant during the same seasons again. So I've relied on four things to build my maternity wardrobe, and all have been equally important!
Borrow from friends who have already had their babies. This is the cheapest (free!) option of course but isn't an option for everyone. I got lucky in that a good friend of mine is very close in size to me and she had her baby last fall. So I raided her closet to borrow the pieces she purchased during her maternity. And you guys - she's got great style!
Buy some necessary basics. This is the part that can cost some money, but you don't need to go out and buy a whole new wardrobe. For me, this has meant the following: 5 pants (2 pairs of jeans, one pair of black slacks, one pair of navy slacks, one pair of purple ponte pants), 5 dresses (navy 3/4 bodycon, gray sleeveless bodycon, navy scalloped shift, b&w striped bodycon, bright pink short sleeve bodycon), and a variety of basic tops (a couple of sweaters, a couple of tank tops, and a handful of solid/striped long & short sleeved tees). I've relied on sale items from Target, Gap, and Destination Maternity (they have amazing sales!) to do most of my buying.
Rent from Le Tote Maternity. This is where I spice up my wardrobe from week to week without making a ton of investments. I get to rotate through some more interesting pieces, keeping a couple of them here & there that I fall in love with, and returning the rest once I've worn them.
Wear layering pieces that are non-maternity. Of course, layering with existing pieces from your own pre-pregnancy wardrobe is super important. Vests, cardigans, blazers, and accessories like necklaces and scarves are key!
Here are some recent outfits that have been made up from all three of these options: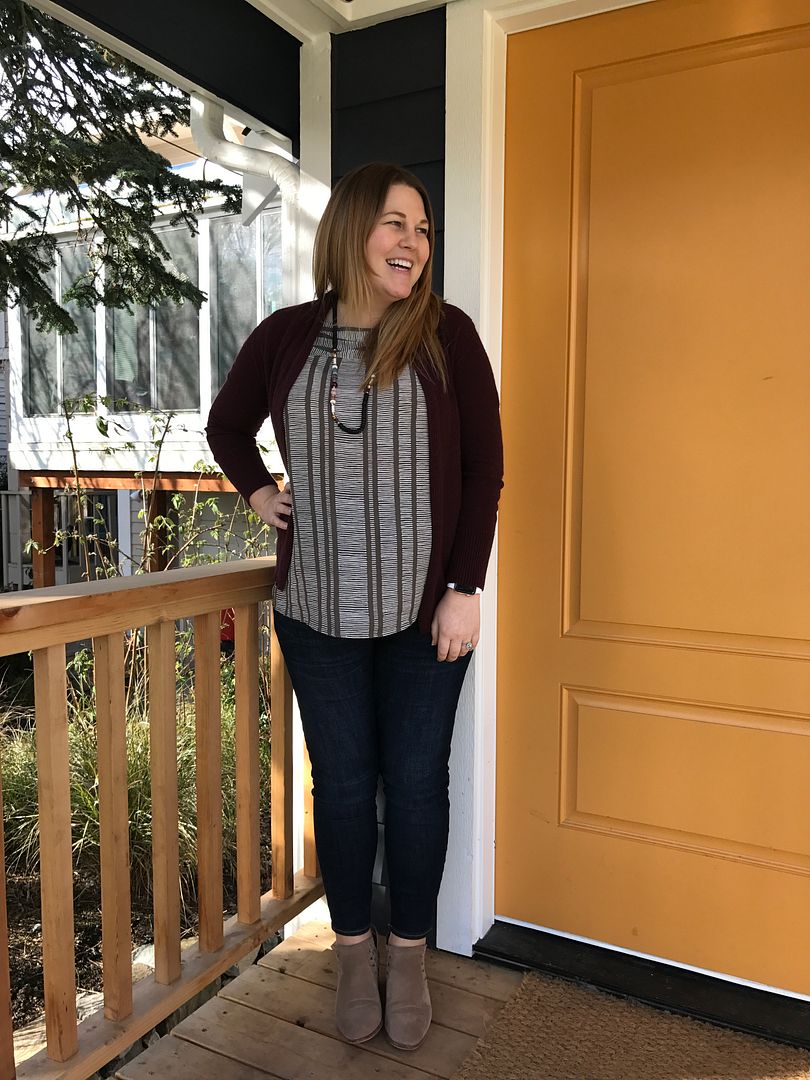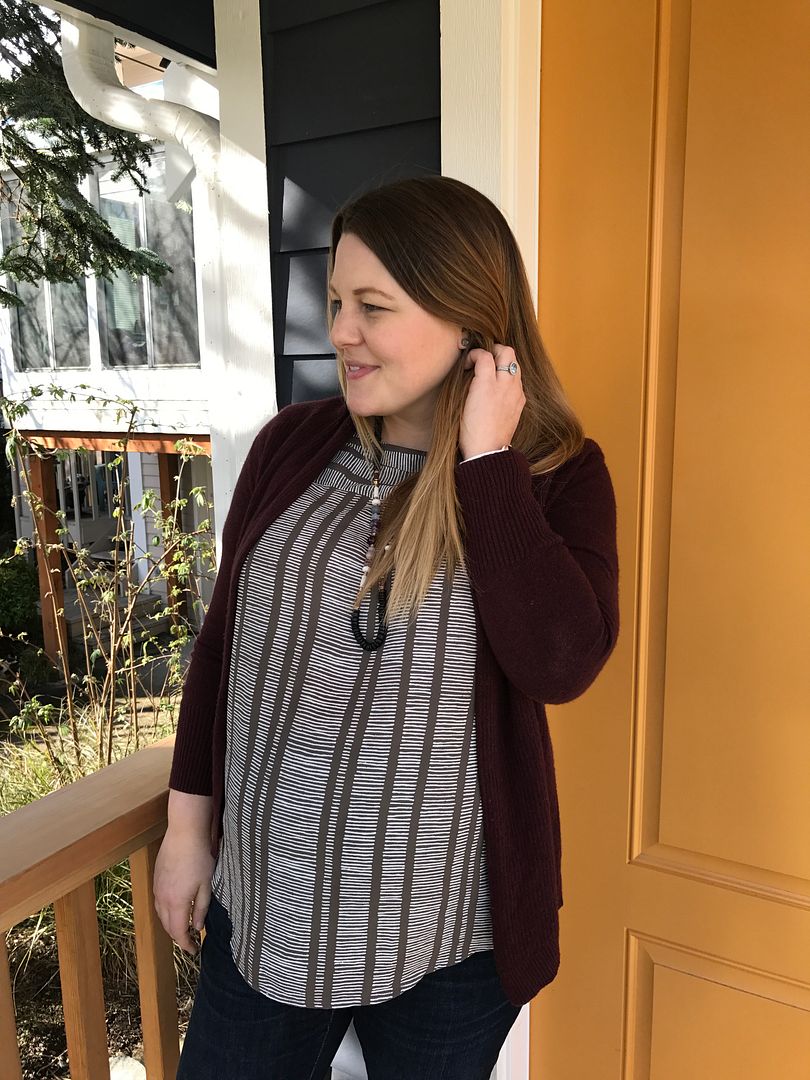 In this outfit, I'm wearing maternity slacks I bought, a borrowed-from-a-friend maternity top, and a pre-maternity cardigan, shoes, and necklace.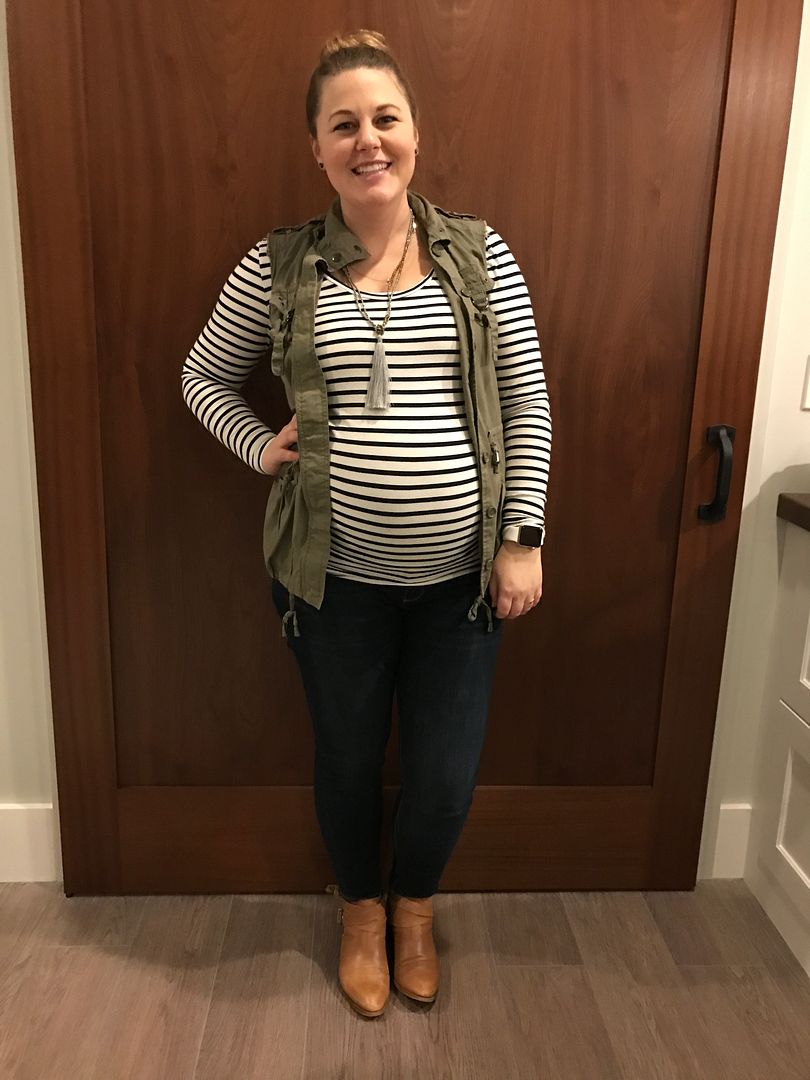 I had no idea I'd get so much use out of this pre-pregnancy vest, but I'm so glad this style is coming back around for spring. Here I have it layered over a basic maternity tee I bought and some maternity jeans.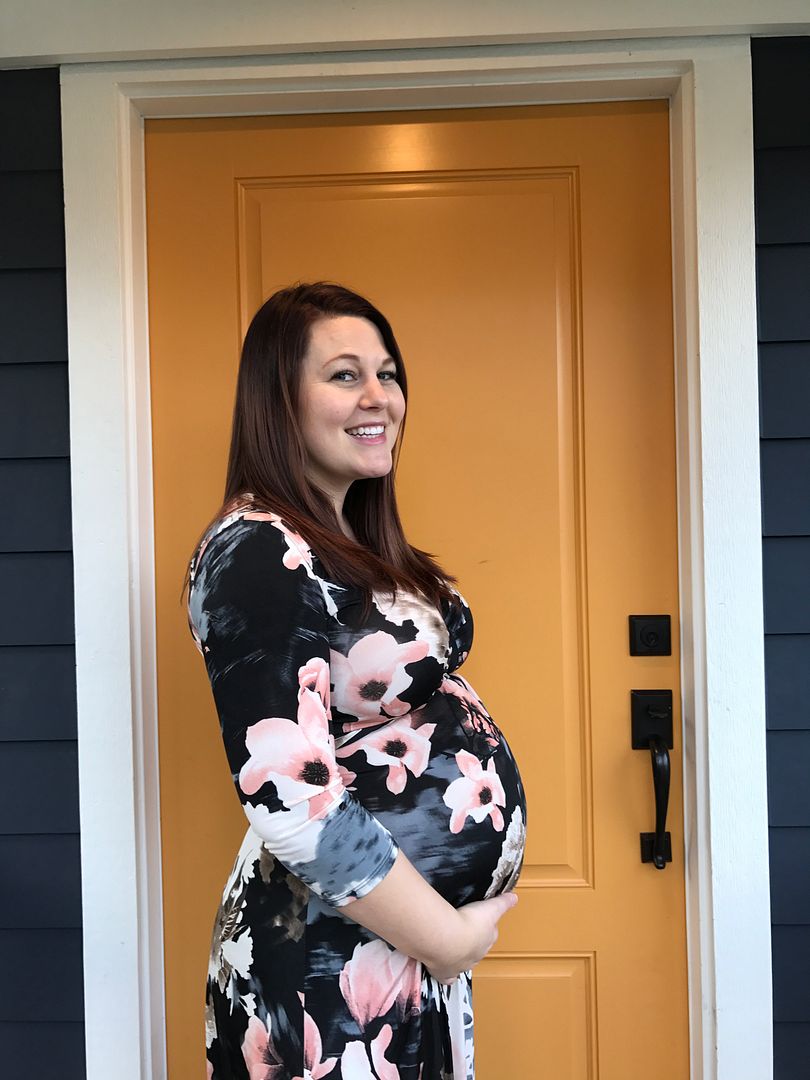 For my first baby shower, I wore a borrowed dress - that my friend Lindsey wore to her baby shower too! Having a fun piece like this (from PinkBlush, of course!) without having to buy it myself was such a treat!
Here I'm wearing a basic maternity tee and slacks with a jacket I used to wear a bunch pre-pregnancy. It doesn't button anymore, but turns out I love it open just as much as I love it buttoned!
For my second baby shower, I picked up a dress from Target to wear with my trusty field vest. Like I said, I'm getting way more use out of this vest than I ever thought I would!
Overall, I've felt really pulled-together despite not having access to my full closet. I guess this is why people like capsule wardrobes so much!