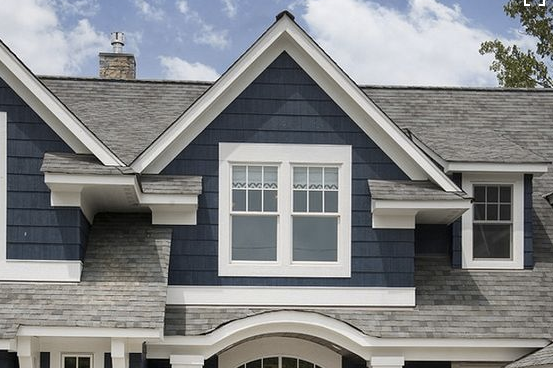 Not our house. Source.
Recently at home
Tired of construction updates? I'm not! But I'm going to skip one this week and instead ask for advice about the house! We're painting our house Hale Navy (which yes, I know is popular, but it isn't in our neighborhood so I'm taking full advantage and going with it anyway) with white trim, and we want a contrasting door color. Originally we thought a coral would be fun, but up against Hale Navy, it looks too pink. So tell me - what color would you paint our front door???!
Recently purchased
Bathroom shower tiles and a front door handle. Nothing fun for myself since this budget post went live, though! If I had, I would have picked up this dress, or something very similar. I've gone through the Nordstrom Anniversary Sale catalog and circled everything I want so I'm saving up July's money for that! If you haven't checked it out yet, take a look through the catalog and let me know your favorite pieces in the comments!
Recently styled
I've been rocking the sleep bun for years, and when I was on Cassie's bachelorette party, I noticed that a bunch of my girlfriends didn't know what it was! Whether my hair is straight or curled, this is how I go to bed - it helps with volume at my roots, holding the curls when I do have them, and keeping my hair from getting greasy on days when I don't want to wash it. Do you sleep bun? If you want to try, here's the Sephora clips I use, and here's a quick tutorial.
Recently consumed
We're in Chelan for the fourth with my family and yesterday was a day with my favorite food, all day. Homemade cold brew to kick the day off, a trip to the Lakeview Drive In on the boat, and a giant steak salad for dinner. When I eat fries and a burger and beer at lunch, all I want for dinner is salad, and luckily the whole family agreed. Oh! And my parents neighbors brought over peanut butter cup ice cream - homemade! - that we ended the night with! So sweet of them!
Recently in love
Besides my parents, this guy is the only one who has his boaters license (the test in WA is SO LONG and the rest of us keep procrastinating!) so he took the helm for the ride home from our favorite waterfall so Dad could relax. Such a handsome captain, isn't he?! My suit is from Target (sold out, but this is similar, and this is not so similar but I adore it anyway), sunglasses are these, and yep, I'm still rocking my favorite little wallet (my 30th birthday present from Trav!) which is now available in this adorable pattern.
Coming up next
July goals
Work Clothes
July Currently