I think I've shared it here before, but if not, my little sister is engaged to be married in July (!!!!!!!!!!!). And the guy she is marrying is from Green Bay, WI. So this year, we all (my mom & dad, my sis & her fiancé Mike, and Travis & me) decided to go out to Green Bay for the Seahawks game there and to celebrate an early Christmas with Mike's family who still live in Green Bay.
Short version: We had an AMAZING weekend minus the (really awful and uncharacteristically embarrassing) Seahawks loss.
Long version: We all flew to Green Bay on Friday (Alyssa & Mike's flight got cancelled, so they had to scramble to get on a new one) to start the real festivities on Saturday morning. We woke up to FREEZING temperatures and a bunch of fresh snow, which was just the best:
We went on a Lambeau Field tour, making sure to get a photo of the whole gang in our Seahawks and Packers gear:
After the tour we headed across the street to Kroll's for some traditional butterburgers, cheese curds, and local beer:
But Sunday is when the real fun began. Tailgating while it dumped snow in the parking lot of Badger State Brewing (where we also went on a tour with the owner, a friend of Mike's), and then the coldest football game I've ever been to (where Russell Wilson forgot how to complete passes and instead we turned the ball over 6 TIMES for a big embarrassing loss):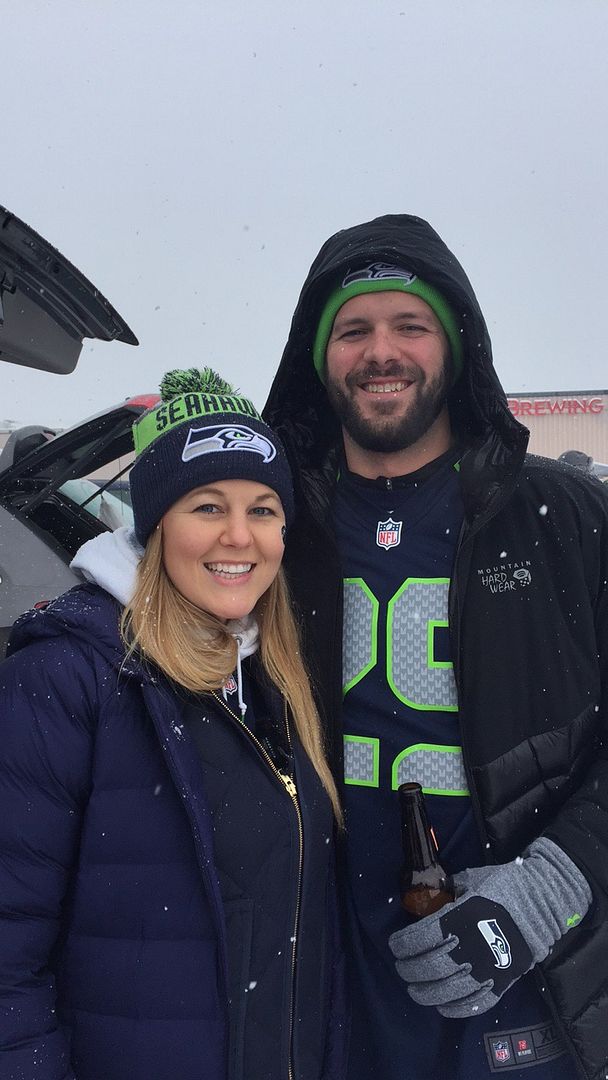 We warmed up after the game with homemade lasagna at Mike's mom's house, went to an indulgent breakfast on Monday before going to see a movie, and then we all piled into a restaurant for a final dinner on Monday night (where the hostess took the worst photo ever) before departing early Tuesday morning to return home:
Believe it or not, we packed for the entire weekend in carry-on bags which was extra-challenging given all the cold-weather gear we had to bring in preparation for being outside ALL DAY SUNDAY. But we were all warm enough, we had so much fun getting to know Mike's parents, siblings, and hometown, and seeing a game at Lambeau Field is an experience we won't ever forget (maybe especially because of the loss?)!!