One of my 2016 goals is to share more here on the blog of how and what I'm packing for my trips. Most of the time, I'm on a short one-day trip for work to Portland or Spokane or Boise, but sometimes those trips are 2-3 days long. Plus, in 2016 we have a ton of weekend getaways and warmer tropical vacations planned: a weekend in Canada to go to a Vancouver Canucks game, a 5-day beach getaway in Costa Rica, and a snowy weekend at Lake Louise all come in the first few months of the year, and that will be followed up with a quick trip to Puerto Vallarta, a few wine weekends in Walla Walla, a wedding weekend in the San Juans, and a hiking weekend in Crater Lake, Oregon before the end of summer. It's going to be a busy year, and I'm going to make an effort to do a better job of documenting my packing guides for each of these trips.
For the New Year, my parents booked a house at Seabrook out on the ocean for all of us to enjoy together. We didn't have any huge plans, other than to spend lots of quality time together enjoying the end of 2015 and start of 2016. We took the dogs with us, so we knew we'd be taking some cold-weather beach walks with the pups to let them play around in the sand. And Seabrook was having a New Years Eve bash, so we had to plan for that as well (although we didn't end up going!). But otherwise, lots of lounge time in the cozy rental house.
Here's what I planned to pack, using my Pyramid Packing Guide:
I didn't love this guide for a weekend like this, to be honest, because my goal wasn't to have a bunch of remixable outfits - everything really only needed to serve a single purpose. So I made a last-minute call while packing to use this more as a quantity guide, but instead to pack in outfits. Here's what actually ended up in my duffel:
Bottoms: black leggings, skinny jeans w/ripped knees
Tops: striped long-sleeve, black everlane sweatshirt, Seahawks jersey
Outerwear: patterned puffer vest, black beanie, blue & white pom pom beanie, black puffy coat
Footwear: slippers, black Nike sneakers (similar), Tretorn shortie rain boots
And on the way there, I wore what I'd been wearing for work on Friday: black skinnies, red flannel, cream sweater, and cognac booties.
And here's how I wore it all:
Yep, that's right. Despite my best efforts, we basically only took photos while outside and totally bundled up. Here are a couple of outfits, though: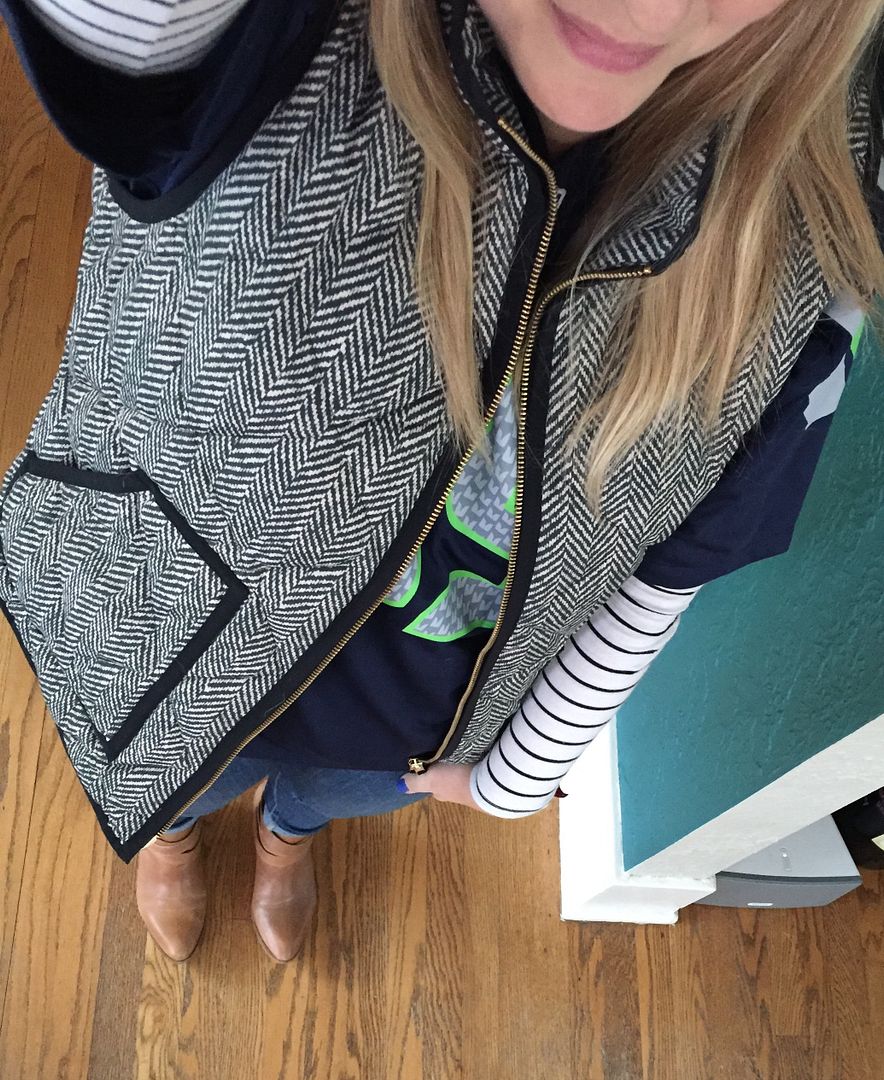 On Friday, left (jeans, flannel, similar sweater, boots). On Sunday, right (jeans, jersey, vest, similar booties). And on Saturday, I wore a version of the outfit on the right: leggings, similar nike sneakers, striped tee, everlane sweatshirt, puffy vest, and a black beanie. Actually probably my favorite outfit of the weekend, but not photographed. Definitely one to be repeated, though!
SO there ya have it! I was warm, comfortable, appropriately dressed, and didn't overpack. My first packing success of the year. Let's hope it isn't the last!