My sis has been sending me lots of outfit photos lately - mostly because she's been wearing lots of my hand-me-downs, and she loves making me regret giving items to her (just kidding!). But seriously, half of the time, she shows me an outfit with a piece I gave her, and I'm instantly like "why didn't I ever style it that way?!" But she's way cuter in all of it, and I don't actually regret getting rid of so much - it feels great to get dressed every day selecting items from a closet full of only things that I love. Anyway, I thought I'd share a few of her recent looks.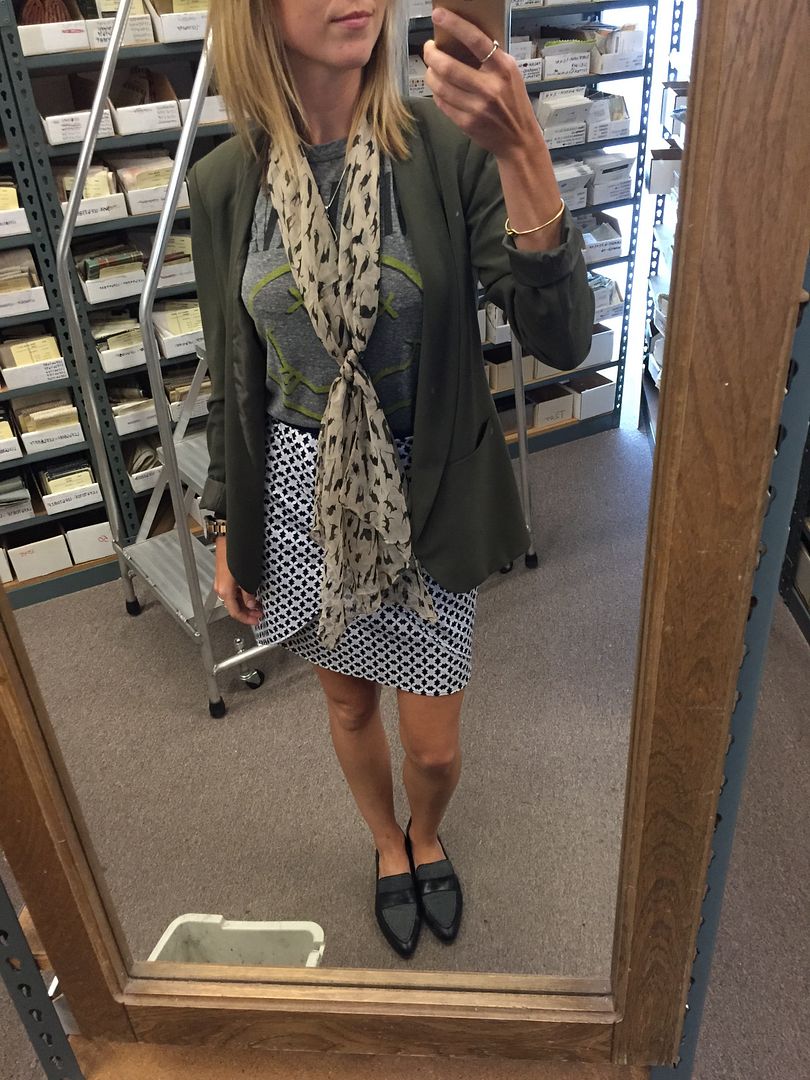 Most of my sister's clothes come from a cute boutique in Portland called Sloan. Here are some similar options:
shirt | blazer | skirt | scarf | shoes
I love this look for the office - the graphic tee keeps it more casual while the (amazing!) shoes and blazer still look professional. And the way that scarf is tied is my favorite - how come I never think to do that?!
Similar items:
shirt | sweater | ponte pants | boots
The polka dot mixing here is my favorite. This sweater is a hand-me-down from me, and I got it from a friend as a hand-me-down from her closet! The cute black ponte pants and boots with this cozy sweater just scream fall to me!
Similar items:
shirt | blazer | leggings | flats
This outfit is a favorite of mine. I love the idea of taking leggings or skinny jeans and a basic tee and then dressing it up with a blazer and some cute pointy-toe flats. On this day my sister was working and then heading to a college she attended to help out with the design students, so she wanted to be casual enough for that while still looking pulled together. I love the result.
Let me know in the comments if you want to keep seeing some of my sister's style once in a while! I think she's so cute and I love her creativity with her wardrobe, but don't want to force it on you if it isn't your thing!